Writing : Translations, Adaptations, Plays
Bartlett's theatre characteristically involves a head-on collision between the elevated and the immediate, the gorgeous and the stark, the historic and the contemporary. His translations transform plays by authors as different as Moliere, Racine, Marivaux, Genet , Kleist and Labiche into vivid, stylish and accessible English texts. They have been widely performed in student and amateur productions around the world as well as by the Royal Shakespeare Company, the National, the Goodman in Chicago and the Arena in Washington as well as by many regional theatres. His adaptations of Balzac, Dumas, Stevenson, Wilde and Dickens are ingenious applications of contemporary staging techniques to their source-author's original words. For instance, the stage directions of his acclaimed  1996 A Christmas Carol, which is all Dickens and nothing but, call for just eight actors and a lightbulb.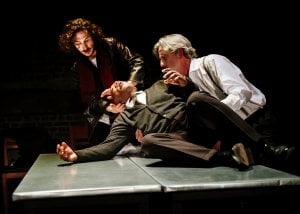 As a playwright, Bartlett's original pieces have characteristically been created for particular performers – his play In Extremis, for instance, commissioned by the National Theatre to commemorate the centenary of the death of Oscar Wilde in 2000, was written specifically for Sheila Hancock and Corin Redgrave. The smaller-scale pieces collected in his anthologies Solo Voices ( 2005) and Queer Voices  ( 2012) – all written for either himself or close colleagues – have proved difficult to revive, since they are nearer in form to documentation of individual performances than conventional playwrighting- but have proved an effective and popular quarry for audition speeches. The latter contains his 2011 adaptation of  Oscar Wilde's The Remarkable Rocket. His 2016 play, Stella  uses two actors to embody the compelling figure of the Victorian cross-dresser Ernest Boulton ; his acclaimed  2017 adaptation of Albert Camus's The Plague  uses just five actors and a bare stage to conjure up a story of harrowing contemporary relevance. In 2022, Neil  premiered a new version of Jekyll and Hyde , then took the West End of London by storm with his adaptation of Woolf's multi-gendered  Orlando – a staging that featured rising star Emma Corrin in the lead role.
All enquiries concerning performance rights for the following pieces of Neil Bartlett's work should be addressed to Simon Blakey at The Agency ; to find details of publishers, please just click on the title.
Neil's original plays;
Bartlett A VISION OF LOVE REVEALED IN SLEEP (published in Gay Plays Volume 4 )
IN EXTREMIS
NIGHT AFTER NIGHT
SOLO VOICES ; MONLOGUES 1987-2004 (includes; Where Is Love ?, That's How Strong My Love Is, That's What Friends Are For, A Vision of Love Revealed in Sleep ( solo version), Night After Night ( solo version), The Seven Sacraments of Nicolas Poussin, The Verger Queen, Does You Good, Improbable) .
OR YOU COULD KISS ME a new play by Neil Bartlett and Handspring Theatre Puppet Company,Oberon, London, 2010
THE GIRL I LEFT BEHIND ME ( with Jessica Walker), Oberon, London, 2011
QUEER VOICES ; more monologues,  (including Oscar Wilde's The Remarkable Rocket  along withHelpless, Sleeping Beauty  and  What Can You Do ? )  Oberon, London, 2012
STELLA Oberon, London, 2016
Neil's adaptations and translations
Camus THE PLAGUE Oberon London 2017. Please note; this script is currently unavailable in published form as the entire original print run has sold out. If you are a producer or theatre interested in reading the script with a view to production, please contact Neil's agent HERE and he will supply you with an electronic copy.
However, available  in print are the following ( click on the title for publishers details)
Dickens A CHRISTMAS CAROL , OLIVER TWIST, GREAT EXPECTATIONS
Sophie Faucher/Robert Lepage LA CASA AZUL
Dumas CAMILLE
Genet SPLENDID'S.
Kleist THE PRINCE OF HOMBURG.
Labiche THE THREESOME.
Marivaux THE DISPUTE , THE GAME OF LOVE AND CHANCE ,THE ISLAND OF SLAVES.
Moliere DON JUAN
THE MISANTHROPE
THE SCHOOL FOR WIVES
Racine BERENICE
Stevenson JEKYLL AND HYDE Nick Hern Books 2022
Woolf ORLANDO  Nick Hern Books 2022
Wilde THE PICTURE OF DORIAN GRAY Oberon, London, 2012
Unpublished work
Stevenson TREASURE ISLAND unpublished; please contact The Agency
Genet THE MAIDS unpublished; please contact The Agency
EVERYBODY LOVES A WINNER (2009) unpublished; please contact The Agency
Jean Renee Lemoine MEDEA (2017) unpublished ; please contact The Agency