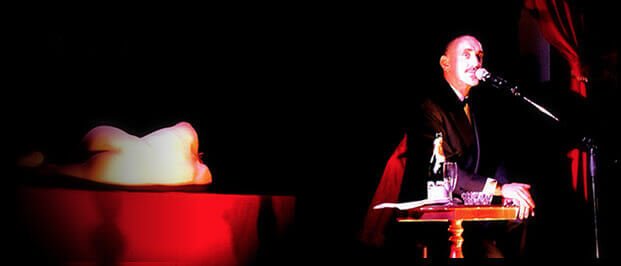 Neil Bartlett has been making rule-breaking theatre and performance since 1983. After a controversial early career he was appointed Artistic Director of the Lyric Hammersmith in London in 1994; since leaving the Lyric in  2005 major cultural producers he has worked for include the National, the Abbey in Dublin, the Bristol Old Vic , the Manchester Royal Exchange, the Edinburgh International, Manchester International , Brighton ,Aldeburgh  and Holland Festivals , the Wellcome Foundation and  Tate Britain .
Neil is also an acclaimed author, with a whole shelf of novels, plays, adaptations and translations to his name. His most recent novel, Address Book, was published by Inkandescent in 2021 – and his very first novel, Ready to Catch Him Should He Fall  (1990) , has just been republished  by Profile as a Serpents Tail Classic
Recent Work
THE PLAGUE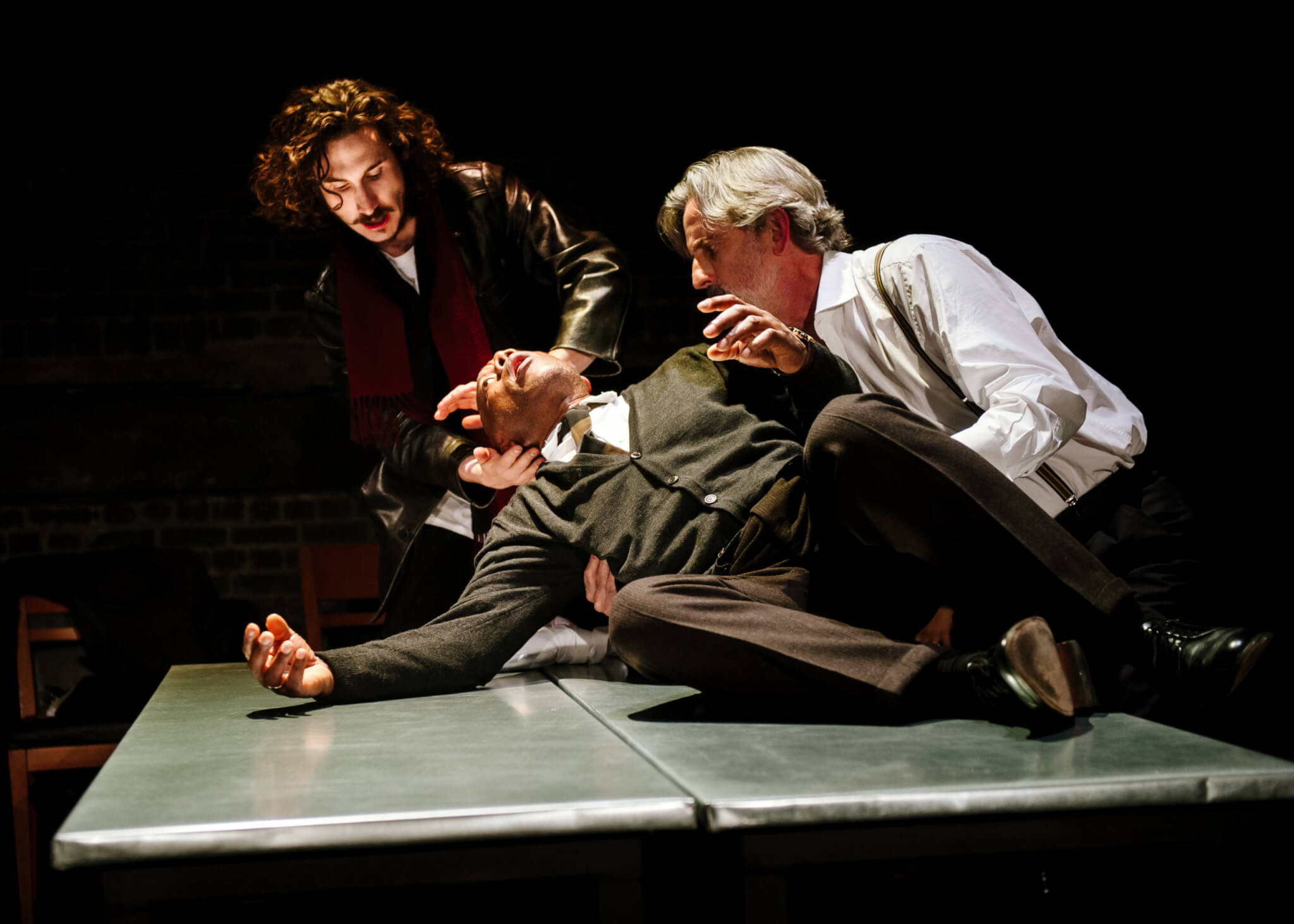 "Bartlett's stripped-back production feels universal  – but also especially relevant" The Observer, July 2020
The piece of Bartlett's work that everybody is talking about just now – as we all  struggle to come to terms with  the Covid19 pandemic-  is his powerful and timely adaptation of Albert's Camus's novel  THE PLAGUE. This was originally premiered on stage to sell-out audiences at the Arcola Theatre in London back  in 2017, and was revived there in 2018. In  July 2020,  it reached a whole new audience when  it was broadcast by  BBC Radio 4 as a made-in-lockdown radio drama – a production which shared an Outstanding Achievement Award in the 2021 BBC Audio Drama Awards. Meanwhile, the script has been performed in countries around the world, from Israel to Hong Kong to New Zealand. Because of all this interest, the script of THE PLAGUE has now sold out it's entire print run. However, if you are a theatre or producer wanting to read the script with a view to production, please contact Neil's agent  here , asking him to send you  an electronic copy – and meanwhile, you see can see and hear Neil  talking about the original stage production in rehearsal  here – and the radio version is available online via the BBC.
The Importance of Being Earnest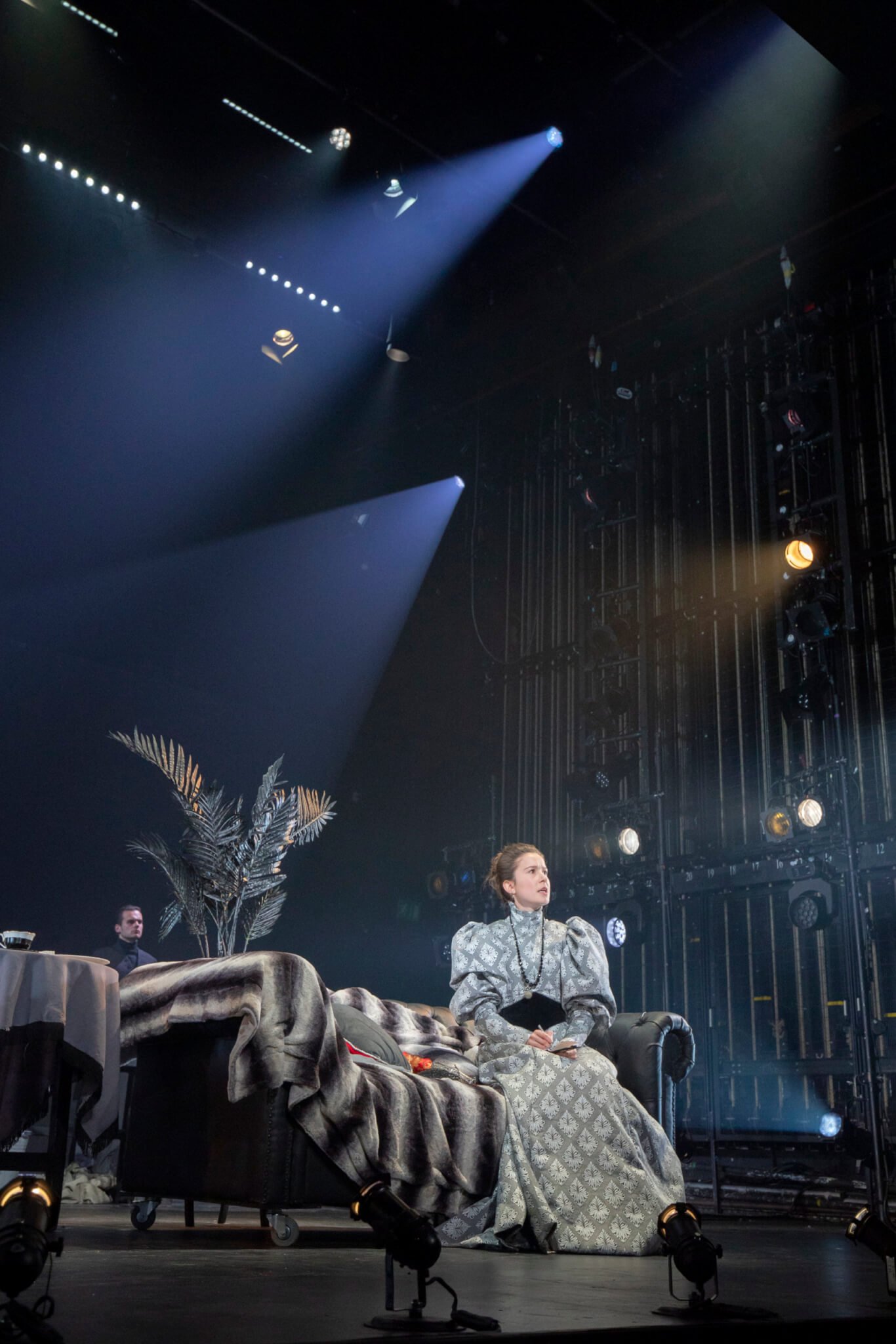 Just before the London theatres went dark in March 2020 , Neil worked with a company of  eight students  and up-and-coming young designer Grace Venning  to create a dramatic new staging of Wilde's last play in the Vanbrugh Theatre  at RADA . A bare black stage – an axe, amongst the tinkling of teacups –  and a thousand pink roses falling from the ceiling provided the setting for a suitably sensational and heartfelt tribute to one of the writers Neil has been most closely associated with  throughout his career.
MEDEA, WRITTEN IN RAGE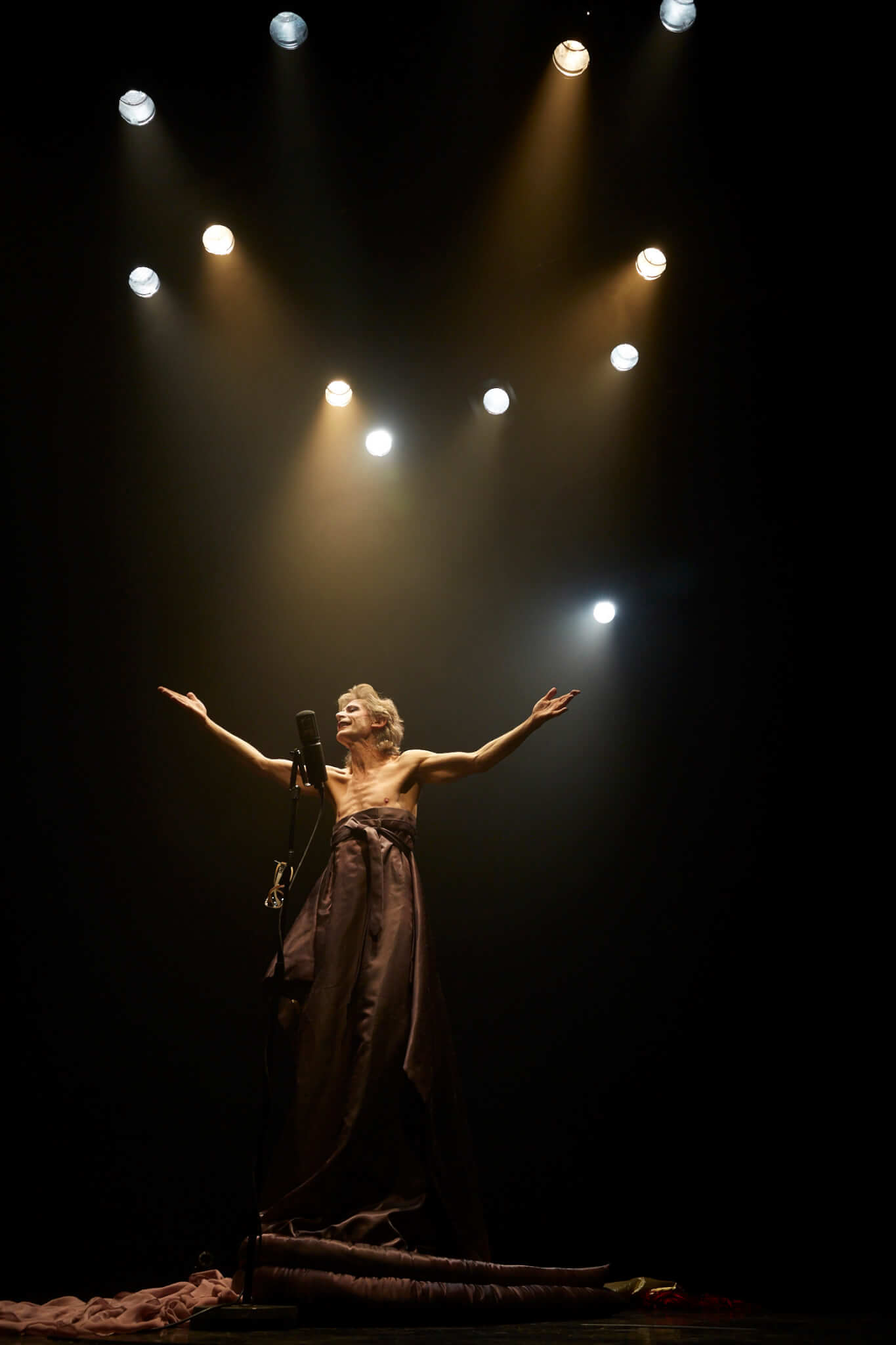 A sensational one-man re-invention of the classic Greek legend of otherness, rage and transgression. Text and staging by Neil Bartlett ( translated and adapted from the 2014 French play by J.R.Lemoine) ; solo performance by Francois Testory ; live electronic soundscape by Phillipe Von – and gown by the legendary Mr Pearl. MEDEA WRITTEN IN RAGE opened at The Place  in London and then went on an acclaimed  seven-city British tour in the autumn of 2017. The final UK performance of the piece was given on the closing Saturday night of  the 2018 Brighton Festival, at Brighton's Theatre Royal.
You can see some clips from the show and hear some audience reaction to the opening night performance here.
A VISION OF LOVE REVEALED IN SLEEP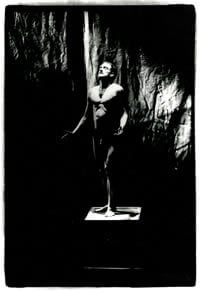 A VISION OF LOVE REVEALED IN SLEEP AT THE TATE
In July 2017 Neil was invited to revive his notorious 1987 solo performance piece  in the extraordinary surroundings of the pre-Raphaelite gallery in Tate Britain. The piece – dedicated to the queer Victorian painter Simeon Solomon – was first staged at the height of the first wave of the British AIDS epidemic , and this one-night only performance is an extraordinary chance to see the work again over thirty years later. You can watch a documentary film of the performance here.
You can also watch a short film of Neil talking about the show with Dominic  Johnson here.
PRINCESS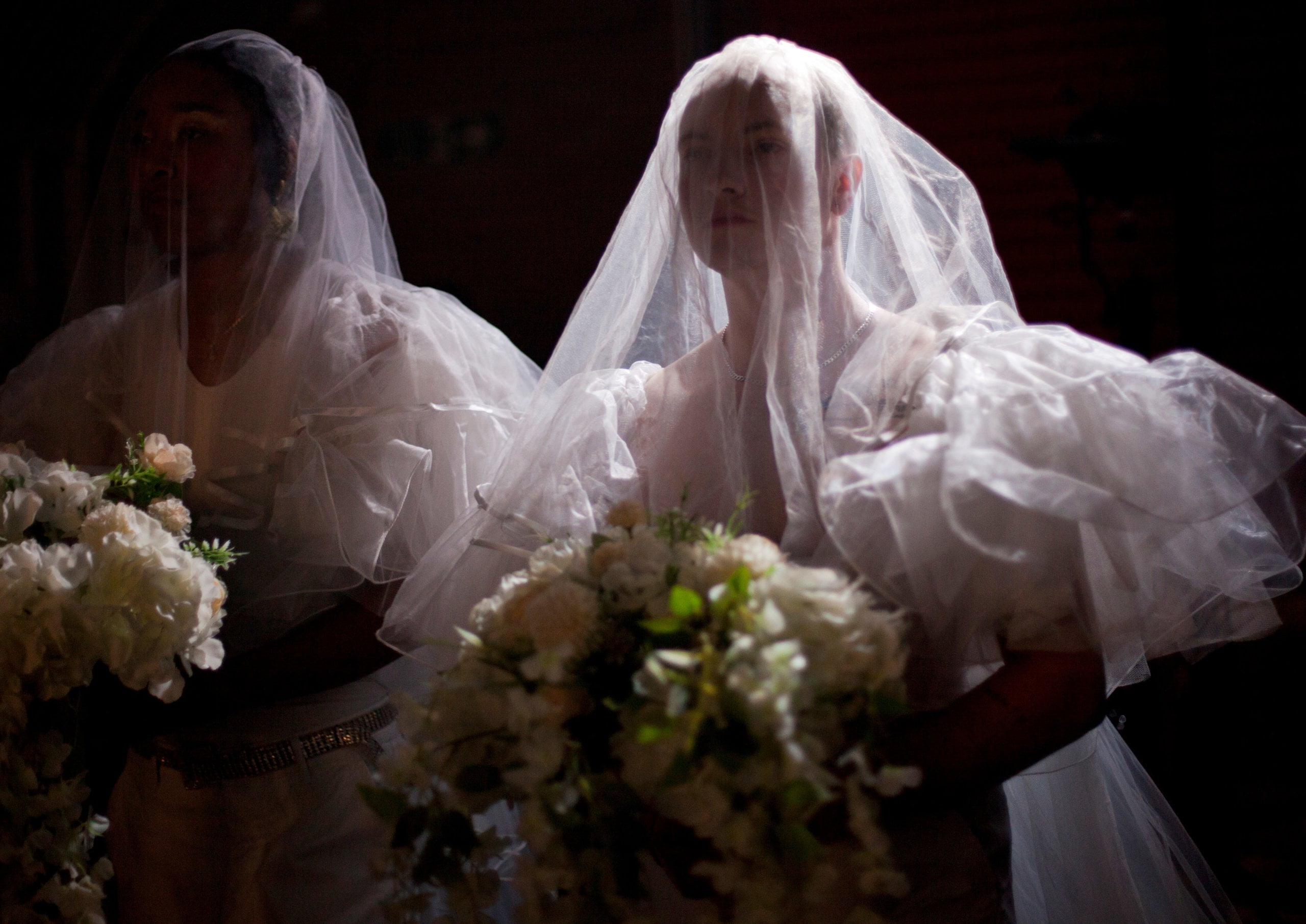 For one week only – in September 2021 – renowned performance provocateurs DUCKIE took to the streets and back alleys of South London's Vauxhall to celebrate the  wild and wonderful heritage of queer life in the eighteenth century – and Neil was commissioned to provide the finale for the evening. Re-imagining a night in a Georgian Molly-House, he brought together an empty railway arch,  the sublime voice of singer Francois Testory ( reworking Henry Purcell's "Frost Song"), the lip-sync wizardy of Dickie Beau ( mouthing to a recording of Neil delivering his text which he made in bed while under he was lockdown with Covid !!)  and a pair of blushing, beyond-gender "brides" to create a heartfelt tribute to all the lovers of London…….  and brought the house down. You can watch a film of the event here.
De Profundis
A solo six-hour live performance of Oscar Wilde's love letter to Lord Alfred Douglas, performed in the chapel of Reading Gaol on September 4th 2016. Produced by Artangel as part of their installation project INSIDE. Bartlett's marathon performance is now available online, and has  been watched around the world. 
Tenebrae; Lessons Learnt in Darkness
Created in and for a time of lockdown, Neil's first new work since the beginning of the pandemic was a love-letter to an empty theatre. Commissioned by the Brighton Festival 2021, it took over the city's dark and deserted Theatre Royal and for just one day – from dawn to sunset – made it a space for reflection on the year that we have all just been through. Working with an extraordinary team of collaborators – including a team of fifteen writers from the city, people whose voices came some of the communities hardest hit by the pandemic – Bartlett filled the theatre with an epic and ever-shifting landscape of  sound and light, using the empty and abandoned auditorium that has seen so much of his work in the past to bear a very particular kind of witness to not just our losses, but also  our strength. You can find out more about the work here.
Jarman; Genet ; Wilde ; Bartlett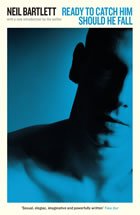 In 2019, Neil was very proud to be asked to write the introduction to a new paperback edition  the final volume of Derek Jarman's journals, SMILING IN SLOW MOTION – a highly personal reflection  on his meetings with Jarman and on the UK  AIDS epidemic in the midst of which they met.
.Neil also contributed an introduction to the re-issue of Jean Genet's  astonishing  novel FUNERAL RITES by Faber and Faber . Another great honour- to be part of bringing a great writer ( and one of Neil's favourites)  to a whole new generation of readers. In the same vein – bringing fresh and passionate insights to the work of his heroes – he also wrote the introduction to IN PRAISE OF DISOBEDIENCE , a new anthology of some of Oscar Wilde's most provocative prose and journalism , published by Verso.
And….Neil's very first novel READY TO CATCH HIM SHOULD HE FALL has just been re-issued in a beautiful new edition, with a specially written preface from Neil which reflects on the changes in queer life and culture that have taken place since this groundbreaking and now-classic book first appeared back  in 1990.
The Disappearance Boy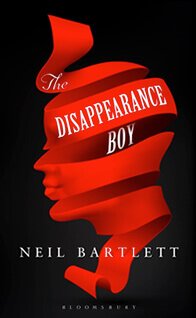 Neil's acclaimed fourth novel was published in August 2014 by Bloomsbury, and reissued in paperback in 2015. This evocative tale of desire and illusion – set backstage in a seaside variety theatre during the Coronation summer of 1953 –  earned Neil a nomination as Stonewall Author of the Year.
TWENTY-FOUR HOURS OF PEACE…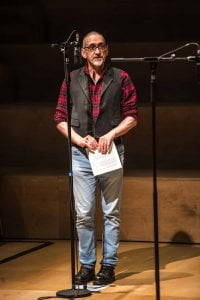 …a twenty-four-long performance; 48 actors; 237,000 words.  This extraordinary one-off event – Neil's biggest-ever piece of work in a theatre –  went live on  Remembrance Sunday 2019 at the Royal Exchange Theatre in Manchester. Three thousand people turned up to the live event ; tens of thousands listened to a live simultaneous broadcast on Resonance FM. Performers in the event  included Toby Jones, Maggie Steed, Miranda Richardson, Julie Hesmondhalgh, Liz Carr, Adjoa Andoh…and 22 community members from across the city.  Neil himself performed – at four in the morning. You can find out more about the show – and access the full 24 hours of the live recording –  here.