interactive & online
Bartlett's work has never fitted into easy categories – and several of his recent large scale projects have skipped the confines of performance and print to exist interactively or online.
LETTER TO AN UNKNOWN SOLDIER ( 2014)  was a collaboration with novelist and digital creator Kate Pullinger. Commissioned to mark the centenary of the outbreak of the First World War, it invited members of the public to write a letter to the enigmatic bronze soldier who stands on the famous war memorial on Platform One of Paddington Station in London. In just nine weeks, over twenty-two thousand people responded – schoolchildren, pensioners, celebrities, famous authors and political leaders. Every single one of the letters was published on an interactive website – where they can still be read – and the entire archive then deposited in the British Library.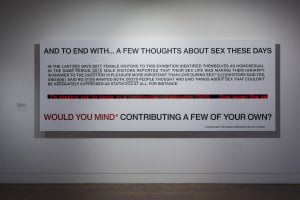 WOULD YOU MIND ( 2015) was an installation piece created for the Wellcome Institute in London as part of their major exhibition entitled THE INSTITUTE OF SEXOLOGY. Bartlett invited visitors to the exhibition to answer an alarmingly frank set of questions on contemporary sexual practices and attitudes. Again,  over twenty thousand people responded. All of their responses are now archived as part of the Wellcome Collection library.
DE PROFUNDIS ( 2016) In September 2016 , as part of ARTANGEL's INSIDE project, Bartlett delivered a marathon  six-hour long reading of  Oscar Wilde's harrowing 1897  letter to his lover Lord Alfred Douglas , performing right inside the prison where Wilde wrote it. The performance was live-streamed , and has since been watched online by people from fifty-eight different countries around the world. You can watch it here.
A VISION OF LOVE REVEALED IN SLEEP (2017) was originally a live piece that Bartlett created at the height of the first wave of the British AIDS epidemic back in 1987. In 2017 he was invited to re-stage the piece for one night only in the extraordinary surroundings of the pre-Raphaelite Gallery at Tate Britain in London. The capacity for this unique show was only 200 people – but the performance was filmed, and is now is available online. You can watch it here