radio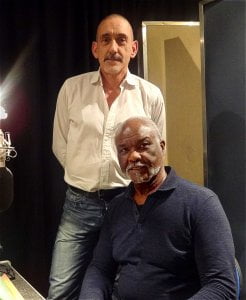 Bartlett has  adapted and directed  a series of powerful dramas for BBC Radio;
THE MAIDS by JEAN GENET (2005 ; translation only) With Janet McTeer
GIOVANNI'S ROOM by JAMES BALDWIN ( 2010; adaptation and direction ) With Damian Lewis, Derek Jacobi and Greta Scacci.
CAROL by PATRICIA HIGHSMITH (2014; adaptation and direction) With Miranda Richardson as Carol – a five-part series for Woman's Hour.
THE PICTURE OF DORIAN GRAY by OSCAR WILDE (2015 ; adaptation and direction) With Jasper Britton and Maggie Steed.
PERICLES by WILLIAM SHAKESPEARE (2016 adaptation and direction) With Willard White as Gower.
THE PLAGUE by Albert Camus ( 2021; adaptation and direction). Winner of the Award for Outstanding Contribution at the the BBC Audio Drama Awards, 2021.
MAKE DEATH LOVE ME ; SHAKESPEARE'S ANTONY AND CLEOPATRA RE-IMAGINED (adaptation and direction; 2022) Commissioned by Radio 3 in honour of Shakespeare's birthday, MAKE DEATH LOVE is a violent and sensual account of the play, with a soundscape reflecting contemporary war-reporting and with the words of the African characters given back to performers of colour. The company is lead by the astonishing Adjoa Andoh as Cleopatra, and Antony is voiced by Tim McInnerny.  You can access the piece on the BBC Sounds website
In 2019, he created his largest ever performance project specifically for radio . TWENTY FOUR HOURS OF PEACE was the title of a once-only and uninterrupted live broadcast of a 237,000-word long text that Neil had created from the testimonies of a hundred UK peaceworkers. The performers included Toby Jones, Miranda Richardson – Neil himself – and twenty-two community performers who ranged in age from 15 to 87. You can access more information about this extraordinary event – and a complete recording of the piece  – here.